Some of my clients come to my studio for their custom photoshoot from far(really far). So for those of you who would like to book me for Boudoir or Fine Art Nude experience near you here is the schedule for my International and Local travel for the rest of 2017. I have a limited space/time available for Portrait sessions in Barcelona, Valencia/Spain, Puerto Rico, Berlin/Germany, Zurich/Switzerland, Flagstaff/Arizona, and Cancun/Mexico.
July 17-20 Barcelona, Spain.
July 22-29 Valencia, Spain.
August 4-6 Puerto Rico.
August 21-28 Berlin, Germany.
August 30- September 5 Zurich, Switzerland.
September 8-9 Berlin, Germany.
October 21-23 Flagstaff, Arizona.
December 27-January 8 Cancun, Mexico.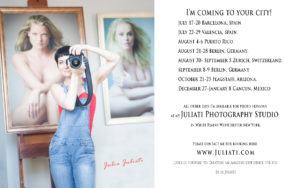 All other days I'm available for photo sessions at my Juliati Photography Studio in White Plains Westchester New York.
Please contact me for booking here: www.Juliati.com
Looking forward to creating an amazing experience for you,
Julia Juliati
Juliati Photography Studio