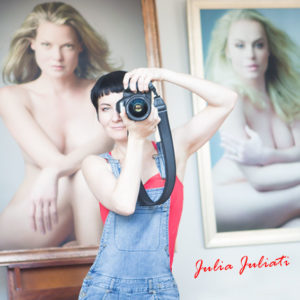 "I have received numerous honors and accolades of excellence in local and international competitions. I encourage you to look around, make sure you find work that you love, a photographer you connect with, and don't settle for anything less.
I will not only create the most amazing portraits that you've ever seen of yourself, but I will also teach you how to look your best in front of the camera. 
I am not right for everybody. For a few people that I am right for I do an extraordinary job. I invite you to a session with me…it will change the way you see yourself." Julia Juliati
"Juliati has brought the collective history of Western painting, the lessons of over a hundred years of photographic composition, the Golden Age of Hollywood Glamour and the vitality of today's top fashion photographers together to produce photographs that are masterpieces."   Don Brown, critic
BARING ALL – A sense of power with Julia Juliati. review written by Briana Alessi, client:
Baring all in front of a stranger seems like the last thing anyone would want to do.  Once you meet Julia Juliati, a professional photographer based out of Westchester, NY, you will change your mind.
Julia has a Degree in psychology and has had an extensive exposure to art through her parents.  She continues to perfect her own style of art through Photography, film, and dance. Her focus is on fine art nudes and boudoir.  Julia feels that baring all gives her clients a sense of power while bringing out the unique beauty in each person. Her photographs elicit transformation in her clients.  Often her clients start out with boudoir and end up returning for full nudes after gaining a new perspective on the sensuality of their bodies.
Many of her clients commission Julia to do a portrait just for themselves to celebrate their bodies and sensuality, while others may do it for a loved one.  Julia's style of classic art with a modern twist shines through in her portraits, yet she lets the energy of the client direct the project.  The one- on-one photography session in her private and comfortable studio gives her clients a sense of freedom, expression, and a new ability to let go of prior insecurities. Julia sees her clients change in front of her eyes into new sensual beings, proud of themselves and full of new respect for their bodies.
A DANCE WITHIN – with Photographer, Filmmaker, & Dancer Julia Juliati. article in Modern Tango World Magazine:
Julia Juliati is a second generation photographer, taking off from her father. Starting from childhood, Julia has an extensive exposure to art through her parents, from frequent visits to classical art exhibitions, to ballet and opera, to modern dance shows. Besides being fascinated by the visual influence of art, Julia was always intrigued by the nuances of human personalities, thus getting a psychology degree was an obvious choice.
She developed her own style of portraiture that depicts the beauty and sensuality of female form. Her clientele are women of all ages and body types. Julia's artistry not only shows in the quality of her images but the visible ease of her clientele. This transformation that comes from the way women view themselves empowers women in their search for self-growth, confidence, and self-esteem.
Movement photography and filmography has taken her artistic adventures into new territory, meshing her love for dance and the human form. Being a Tango dancer herself, Julia has created beautiful cinematography projects incorporating her love for Tango and her sensual style, bringing the viewer to a very new angle of the Tango world. One option for some of Julia's clients may be to collaborate with her to create a personal film of a choreographed dance. The movement and sensuality, along with cinema graphic perfection leave her clients with a timeless treasure and a beautiful personalized movie.
Juliati implements the sense of movement in her photography work extensively. Understanding movement gives her the ability to create interesting compositions not only for her dance clients, but for non-dance photoshoots as well. The flowing fabric is used for Maternity shoots to create waves and a sense of harmony; the long hair is arrange as a dancing fire for a Glamour photoshoot; the fluidity of a sheer fabric against the body is used to accentuate sensuality for Boudoir or Nude photo sessions. At Juliati's studio there is always music playing, there is always movement.
The most important aspect of Juliati's photography is the ability to not only compliment the women's body, but also the character, the whole woman, to enhance her confidence and comfort. Juliati begins with a consultation, a conversation that's part of getting to know a client, and part creative brainstorm. Each session is customized combining Juliati's creativity with client's personality, finding a perfect harmony, a dance within.
Julia Juliati has received numerous honors and accolades of excellence in local and international photography competitions. Her dance films and documentaries have been screened in numerous venues and inspired many to dream big and pursue their passion. Julia runs her successful portriat photography studio & film business in White Plains Westchester NY.